Waz up guys, thought I'd post some pic's of Ofna 3.8 rims new in pack and what I think are Losi 3.2 new not in pack rims. Payed $10 for them all! Love the Ofna's, package tag is from 1994 ah the good old days.
Anyway I'd like to make a request if allowed,
@WoodiE
,
@Jam Racing 1
, & @X ,Can we get a separate section in Parts for Rims & Tires?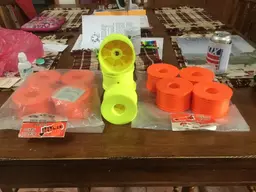 Last edited: