Well-Known Member
HPISF Supporter
Been looking into potentially removing the centre driveshafts and replacing them with CVD, found
one thread
talking about a similar mod (see link). Nothing really came of it so I want to start a more
formal and proper
thread for this topic.
So to cut a long post short, I am going to be replacing the centre shafts and cups with a CVD drive. For reference, these are what are used in the standard setup:
HPI 109907
- 8x70.5mm drive shaft
HPI 86054
- 8x142mm drive shaft
I need help!
I have found one CVD
that will work for the smaller dogbone:
70-80mm CVD with a 6mm internal diameter.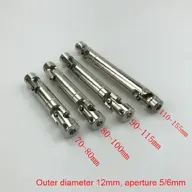 I am yet to find one that will fit the XL driveshaft though. If anyone can help out its greatly appreciated!
This is all a means to test it out and see if its worth it! I will keep this thread updated with any updates and research!