14 day quarantine... Day 11: Decided it would be a good idea to paint white letters on the Terra Pins on my XL today.
I did this on a Traxxas Stampede and it held up better than I thought it would. Touching up the paint is good rainy-day therapy. I know this won't look new for long but I was sitting here, staring at the truck and thought, "What the heck". I used tamaya white paint for clear bodies so hopefully it will have more flex than Rust-O'leum.
3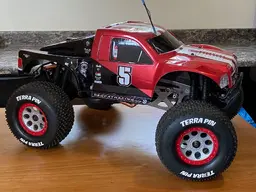 more days... 3 more days...