Hey all,
I have scored a brand new Savage 25 3 speed limited edition still in box. Looks as though it has never been taken out of box and definitely never had and fuel through it.
Was thinking of breaking in to see how it goes as have never ran a 3 speed before.
Are older savages worth any money? Think this model was released around 2005.
I already have a few other Savages, so no big deal if just keep it as a shelf queen.
Would be interested in your thoughts?
Cheers,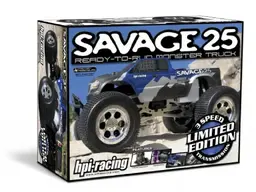 https://www.hpiracing.com/en/kit/853