Hello. I bought this (Idler Gear 32T-60T)
https://www.elefun.no/p/prod.aspx?v=21507
. With custom Pinion Gear from the same place. Since I saw what was sitting there was a bit worn out. And it said that it was recommended to replace it two more teeth. 32T-60T. Old: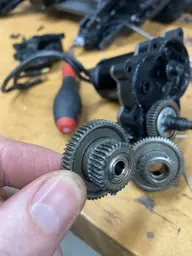 I did change the slipper pads and tightened the screw quite hard since I did not want it to slip.
But one wheel did get stuck the fist 5 min, then it did not want to drive. Open it up, and it looks like this. What happend? I am new to this.