Hi fellow Savage peps, Looking for an HPI Low Centre of Gravity Engine/Motor Plate. HPI part number #86357 or any other make of Low CG motor plate that fits the savage. I know you can modify a standard motor plate as this is what I have done but would like the real McCoy if I can get one. The fins on the bottom are not necessary as its only the cut out at the back of the plate that really matters as this is were the rear diff output cup sits and the rear drive shaft runs where the middle fin is missing. But using a standard plate means the rear mount brace has to be cut in half. This doesn't seem to be a problem but this build is still on the bench and has not been put through it's paces yet.
If you have one you don't use or know where I can source one please reply here.
HPI #86357 Low CG motor plate: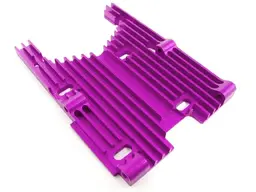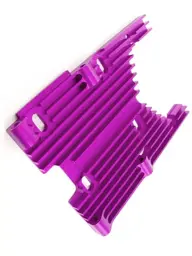 Modified 2.5mm standard engine plate that has been cut to accommodate the rear diff output cup, this is still fitted to a standard set of TVPs and not to the LCG ones. The LCG TVPs will drop the motor plate by 12mm causing the diff cup (not yet fitted) to fit in the cut out in the plate. This is my 1st try at this and think I maybe able to reduce the depth of the cut-out by a couple of mm to increase the amount of meat next to the upper right motor mount hole as on the original it has 3-4mm of metal and on this mock-up has about 2mm. Anyone running a savage with X TVPs will see how close everything is in this region of their truck with the motor plate braces having a curved recess having to be cut in them to give the rear dog bone clearance. The X TVPs only drop the motor plate by 7mm, the LCG ones drop it by another 5mm.
Like I said can't see why this mod won't work, and if necessary can add two more 3mm fixings to the motor plate mount where the mount has been cut in half. But again like I say the proper part wouls be nice to have.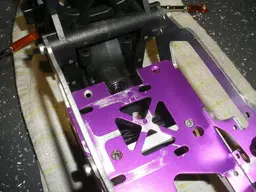 Last edited: