Hey everyone, I'm new, and I've gotten a lot of great info from this site so far, so I would like to pass along what I thought was an awesome tip. I was referred to it on another forum, though I cannot find the link right now to give credit. I saw a few pictures with trucks propped on tupperware bins and such, and I think this will be a really affordable but quality solution. I am sorry if this tip has been posted here before, but I cannot find it anywhere on here, so I thought I'd post it.
Also, the $8 is for the PVC pieces only. I already owned the other tools. The cutter was about $10 and completely worth it in my opinion.
Source-
http://www.westcoastelite.com/forum/topic.asp?TOPIC_ID=417
Materials:
Ruler/Tape Measure (should own one of these already)
Hammer (should own one of these already)
Sharpie (you better own one of these already)
1/2" PVC pipe (approx. 8' - I had to buy two 5' pieces, @ $1.47 each)
PVC Pipe Cutter (most things will cut PVC pipe, but if you've ever used one of these cutters you will never want to use anything else, cost $9.99)
12 x Threadless 1/2" PVC T Couplings ($0.23 each)
4 x Threadless 1/2" PVC Elbow Couplings ($0.23 each)
4 x Threadless 1/2" PVC Inside Caps ($0.47 each)
Total Cost w/o cutter: $8.50!
Using your pipe cutter, cut the PVC into the following:
4 x 8"
4 x 4"
4 x 3 1/4"
8 x 1 1/2"
Picture of the materials (curious cat encouraged but not required)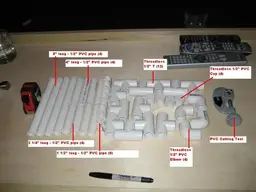 Assemble the base in the following manner (Assemble loosely first, then use the hammer to pound the pieces in tight. Do not hammer in at first if you plan to glue later):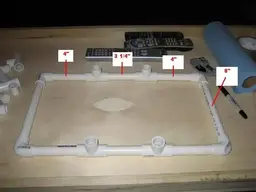 Next add the 1 1/2" uprights: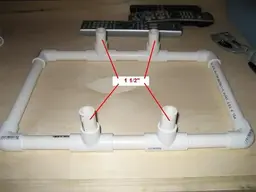 Add the long (8") crossbars next, with 1 1/2" uprights: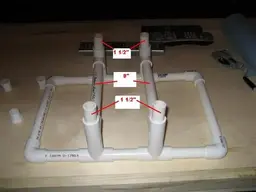 Add the short (3 1/4") crossbars, which the truck will rest on. Insert the caps: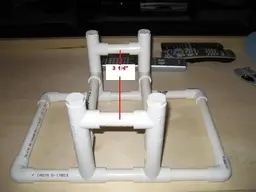 Place your Savage on top and enjoy the $80 you saved by not buying some fancy-pants stand!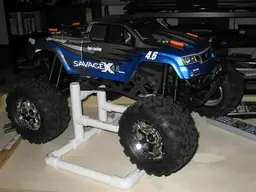 Some people recommend gluing the pieces together, but I found the tolerances on my pieces to be snug enough that just pounding them in was sufficient.
I hope this tip is in the right place and not out of line. Hopefully this will help some of you out!
Last edited by a moderator: